Soroptimist International of the Americas is thrilled to announce Nobel Laureate Malala Yousafzai as the keynote speaker for our 2022 Convention! Save the date for Friday, July 22, and Saturday, July 23, 2022. Malala will speak Friday. Register and get more details here https://www.soroptimist.org/events/index.html
To register and learn more details visit:https://bit.ly/SIAConv2022-Register.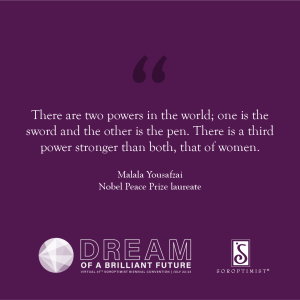 The virtual convention will bring thousands together for professional and personal development and focus on our Big Goal of investing in the dreams of half a million women and girls through access to education by 2031.
"We are committed to helping women gain economic empowerment through education," says Lesha D. Brown, Vice President of Stakeholder Engagement. "Our 2022 Convention will provide actionable opportunities including virtual training sessions, access to new resources, as well as powerful speakers such as Malala.
"Malala's message about the importance of education for girls comes as the global pandemic has amplified the growing need for access to education. Due to COVID-19, an estimated 47 million additional women and girls have fallen into extreme poverty. With the Malala Fund reporting that 20 million more secondary school-age girls could be out of school after the COVID-19 crisis has passed.
Malala will be joined by other speakers who will offer strategies to tackle current challenges in sessions on leadership, personal development, and Soroptimist's unified efforts to help half a million women and girls live their dreams.
Malala is a strong activist for girls' education, the world's youngest Nobel Peace Prize laureate, and the author of "I Am Malala: How One Girl Stood Up for Education and Changed the World"—as well as other best-selling books. Malala has a powerful story to share, and we cannot wait to be immersed in her story leading up to and during our 2022 virtual convention!